Samsung A10s FRP Reset File Unlock With Sp Flash Tool: FRP is a built-in feature to protect the data of all modern Android smartphones, Protects phones from unauthorized access. After performing a factory reset, If you forget the last active Gmail account used on your phone, you should find a solution to unlock your phone. Here, in particular, I share the URL to download Samsung A10s All Version SM-A107F / DS, SM-A107M / DS FRP Reset File With Sp Flash Tool with proper instructions to FRP unlock your Samsung A10s phone. So, follow the procedure below carefully.
What Is Factory Reset Protection FRP:
Factory Reset Protection ( FRP ), is a security feature on Android devices with Android Operating System Version 5.1 (Lollipop) and higher version. The FRP provides a built-in security feature on your android device you are able to use that protects your android device and data information, including screen locks, pin lock, pattern and password lock and data encryptions. The FRP is enabled automatically when a Google (Gmail) account has been registered or login on the android device and will be disabled if the Google account is removed from the device before the Factory Data Reset. Once the FRP has been activated on your android device, it will prevent the use of your device after a Factory Data Reset in an untrusted environment. This means if your device has been Factory Reset in any other way than Settings >Backup & Reset > Factory Data Reset, the FRP Lock will be enabled.
Why would we Bypass FRP Samsung A10s:
Though Factory Reset Protection (FRP) is a useful feature, it can sometimes pose difficulties for people who need to use the Samsung A107F Android smartphone bypassing Google (Gmail) account verification FRP. People who buy refurbished or pre-owned android smartphones from third-party sellers or owners can also encounter the same problem which leaves the phone unusable.
We often buy old mobile phones. Or after we need to reset our own mobile phone sometimes. We often forget our Gmail account, then we must unlock the FRP to use the mobile phone again.
How To Disable Factory Reset Protection Lock FRP:
If you want to disable the FRP lock feature from your Vivo phone then you need to remove the google account from the device Settings. follow the below process completely to disable the Factory Reset Protection successfully: go to the settings Menu => Accounts=> Select Google ID=> Remove Account => That's it.
The process of unlocking Samsung A10s A107F A107M FRP lock has become very challenging, and you can use any FRP Bypass Tool Or FRP Bypass APK according to your phone to unlock FRP, and here I share the latest process of FRP Bypass Reset Google Account lock From your device.
Download Samsung A10s SM-A107F, SM-A107M FRP Bypass File:
You can easily download Samsung A10s A107F A107M FRP unlock File for Android 11 free Download without password from here. It is exclusively available only for all GsmFixes visitors. 
File Name: Samsung A10s SM-A107F/SM-A107M Bypass File.zip
File Size: 110MB
File Type: .zip
Tool: SP Flash Tool
Driver: Liusb Driver
How To Reset FRP Samsung A10s SM-A107F SM-A107M By SP Flash Tool:
After downloading all the required files, you need to follow the steps. we will assist you to try and do the unlock FRP procedure. Let's begin with the steps of the Samsung A10s FRP Bypass File.
Warning: GsmFixes will not be responsible for any boot loops or crashes or any damage to your devices while/after following this guide. Do it at your own risk.
Download & extract Samsung A10s FRP Unlock File to your PC.
Open the SP Flash Tool.
Then, Run SP Flash tool.exe The tool will open shortly.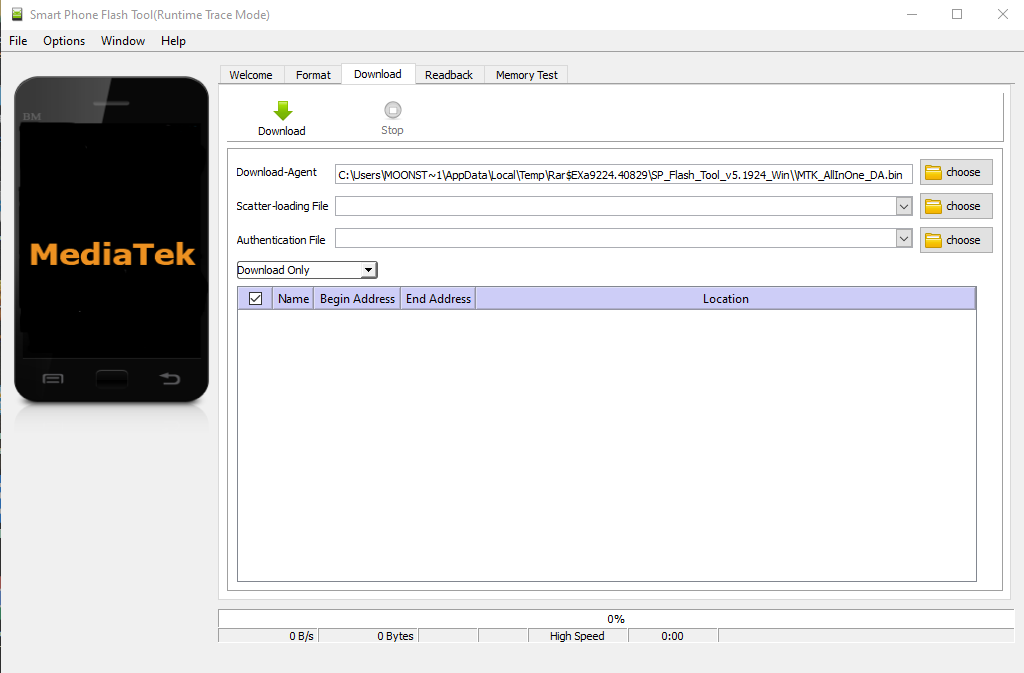 Now, Click on Choose from Download-Agent file Tab and select the DA File file from the Da Foler folder.
Tap To Open.
Now, Click on Choose from Scatter-Loading File Tab and select the MTK_Android_scatter.txt file from the Samsung A107F FRP Remove File Folder..
Tap To Open.
Now, Untick the Preloader Partition.
Then, Goto Format.
Select Manual Format Flash.
Then, Copy and Paste the below FRP Address into the SP flash tool Whatever you need.
FRP Address
BEGIN ADDRESS: 0x15000000
FORMAT LENGTH: 0x80000
Now, Run MTKSecBootDisableV4 from FRP File Folder to your PC.
Then, Power Off your Samsung A10s Android phone.
Connect your device to computer via a USB cable.
Click on Crash PL in the MTKSecBootDisableV4 Tool.
After Auth Bypass Succusfully You See Screen Looks like the picture below.
Now Goto the SP Flash Tool.
Now, Open Device Manager => Check the COMPORT Number.
Click START Button In SP Flash Tool.
The unlocking process will begin
It will take wait some time to finish.
Once finished reset FRP, disconnect and Power On your Samsung A10s Phone.
Setup all initial steps.
That its, If you are still stuck in the process or do not understand anything related to this article, you can let us know in the comments section below.
All of the mentioned devices, logos and pictures and brands are the property of their owners. I used it here just to learn and identify brand models.
Hopefully, the above Samsung A10s FRP Reset File will be useful to you. Stay with us to get all the solutions of GSM, Bypass FRP, Flash Tool, Driver & ETC.